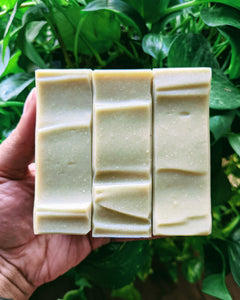 Avocado is high in fatty acids which make it very moisturizing to the skin. It keeps the skin hydrated, and is high in vitamins A and C. It deeply penetrates to the second layer of the skin aiding in elasticity and has also been proven to reduce wrinkles in aging skin. It can also help to heal psoriasis, wounds, cuts, and burns. French green clay, found in certain regions of France, is known for its detoxifying properties, and is high in manganese, silica, copper, phosphorous, magnesium, zinc, and calcium. It also soothes dry skin and provides nice slip and lather to the bar.
INGREDIENTS: organic coconut oil, olive oil, apricot kernel oil, sunflower oil, unrefined shea butter, whole organic avocado, french green clay, oatmilk, castor oil, spearmint essential oil, peppermint essential oil.
FORMULATED FOR: body.
SKIN TYPES: sensitive, normal, dry, troubled.
QUALITIES: moisturizing, soothing.

-Directions: Build up a rich lather in your hands, bath towel, or loofah. Wash and rinse clean. Keep dry in between uses for a longer lasting bar. If irritation occurs, discontinue use.