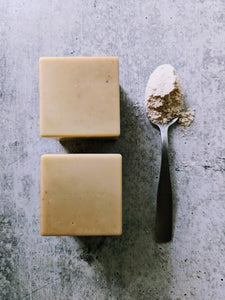 Brand new to the summer collection, this soap is handcrafted with fresh Japanese pears, high in copper, antioxidants, vitamin C + K to reduce inflammation as well as soothe + enrich the skin. Colloidal oatmeal has been added to soothe itching + moisturize the skin. Colloidal oats also help to balance PH levels, so this is a great choice for safe vaginal washing without disrupting the natural flora. 
These bars are cubed shaped + larger than the standard soap bars measuring 6 oz per bar. 
Ingredients: rice bran oil, olive oil, coconut oil, sunflower oil, castor oil, shea butter, whole Japanese pears, colloidal oatmeal, LOVE.