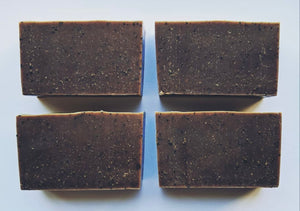 Breakfast in a bar! Coffee is high in anti-oxidants + the caffeine content in helps to rejuvenate skin + eliminate odor. Grounds offer medium to high exfoliation, removing layers of dead skin cells that shed every 4-5 days, to reveal newer skin. Ground oatmeal adds soothing properties. 

INGREDIENTS: organic coconut oil, olive oil, coffee butter, apricot kernel oil, sunflower oil, cocoa butter, unrefined shea butter, castor oil, colombian coffee, coffee grounds, ground oatmeal, coffee oil.
SKIN TYPES: normal. (may be too abrasive for sensitive skin).
QUALITIES: cleansing, exfoliating, odor eliminating.

-Directions: Build up a rich lather in your hands, bath towel, or loofah. Wash and rinse clean. Keep dry in between uses for a longer lasting bar. If irritation occurs, discontinue use.