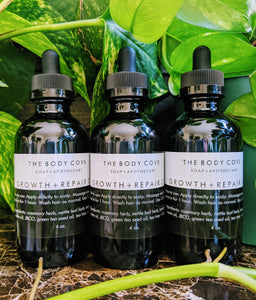 *Can be left in or washed out
This oil has been infused in rosemary herb, nettle leaf, and green tea for 8 weeks to extract their beneficial properties aiding in hair regrowth and restoration of the scalp. A maternal ancestral recipe.
PLASTIC FREE PROMISE- Comes in an amber dropper bottle.
Nettle Leaf: Reduces inflammation in the scalp. Helps to combat hair loss and promote hair regrowth. 
Rosemary Herb: Increases thickness and improves cellular regeneration. Stimulates blood circulation to the scalp 
 Green Tea: Contains high amounts of EGCG, a chemical compound that blocks DHT from damaging hair follicles. DHT contributes to hair loss. 
Jamaican Black Castor Oil: Strengthens, thickens, and promotes hair growth. Supplies nutrients to hair follicles. Prevents hair breakage, dandruff, eczema, and itchy scalp
Neem Oil: Anti-biotic, anti-inflammatory, and prevents and treats psoriasis.
Ingredients: *rosemary herb, green tea seed oil, *stinging nettle leaf, hemp seed oil, neem oil, jamaican black castor oil, tea tree essential oil, lavender essential oil.
*organic herbs