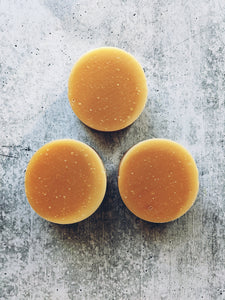 Liquid shampoos have a reputation for causing excessive dryness, as they use harsh detergents and sulfates which completely strip the hair. The natural formula used in this bar effectively cleanses and balances the hair without drying it out. Shampoo bars are long lasting, do not contain preservatives or toxic ingredients like phthalates and drying alcohols, and do not require the use of plastic bottles or non-biodegrable materials. 
Red Clover Honey is a rich and raw unfiltered honey locally sourced from Weeks Honey Farm here in Georgia. Honey is a natural humectant and effectively attracts moisture from the air to the hair. Its bacteria resistance makes it suitable for troubled scalp conditions.
Avocado is rich in fatty acids which help to smooth and soften strands. Babassu oil deeply moisturizes and attributes to elasticity.  It aids in regenerating hair and a balanced scalp. 
Suitable for: all hair types. Specifically for course, curly, dry, and textured hair. 
Ingredients: babassu oil, avocado oil, sweet almond oil, castor oil, cocoa butter, whole avocado, red clover honey, aloe vera gel, rosemary, tea tree, lavender + cedarwood essential oils.